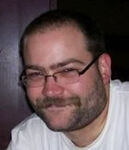 Scott Martineck is an actor and singer from Knoxville, Tennessee. He has been performing on stage since the fifth grade. Recent roles include Michael Casio in Othello, an amalgamation of several minor roles in The Andersonville Trial (with Brian Bonner, directed by Patrick McCray), Paris in Romeo & Juliet, and Titus in Titus Andronicus.
Scott became immersed in The Next Generation during his formative years, absorbing the series, the films, and several books, including Peter David's Imzadi. His recent involvement with The Continuing Mission is re-igniting his youthful passion for all things Trek.
Scott Martineck portrays Communications Officer Stephen Knight
---
This article is a stub. You can help Star Trek TCM Wiki by expanding it!
Ad blocker interference detected!
Wikia is a free-to-use site that makes money from advertising. We have a modified experience for viewers using ad blockers

Wikia is not accessible if you've made further modifications. Remove the custom ad blocker rule(s) and the page will load as expected.